THE VERY END releasen ihr neues Album "ZEITGEIST" sowie das gleichnamige Video zum vierten Track der neuen Scheiben. Zum Song Zeitgeist sagt Sänger Björn Gooßes: "Since some reviewers thought they had to diss the opener of our last album 'Turn Off The World' because of its four lines of German lyrics, we wanted to write a song with only German lyrics for the next album". Wir finden: ein probates Mittel um mit Kritik umzugehen. Auf YouTube hat Zeitgeist in den ersten 4 Tagen bereits über 11.000 Klicks zu verzeichnen.
THE VERY END kommen beim neuen Studioalbum mit neuem line-up. Seit dem letzten Album sind Marc Bräutigam (Gitarre) und Jerom Reil (Drums) dazugekommen und bringen nicht nur ins line-up, sondern auch in die Songs des neuen Albums frischen Wind. Hierbei bleiben THE VERY END wie gewohnt genre-übergreifend vielfältig aber dennoch ihren Wurzeln treu.
Das vierte Studioalbum Zeitgeist bekommt Ihr beim Plattendealer Eures Vertrauens in verschiedenen Varianten von der CD im Diggy-Pack bis zum Vinyl in Schwrarz, verblutet, oder Cremy-White. Letzteres aber nur exclusiv bei EMP. Wer's gerne digital mag, wird bei Amazon, Bandcamp, iTunes oder Spotify fündig.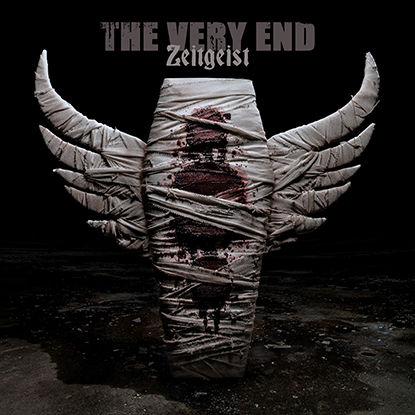 Tracklist:
Teratoma
Light The Lows
On Parole
Zeitgeist
Truth And Tremor
Short Cuts Deep Wounds
Brave New Blood
Anechoic
The Day It All Went Black
Sorrow No More
From Boon To Bane
Until There's Nothing Left Of Us
Quelle: The Very End – www.apostasyrecords.com